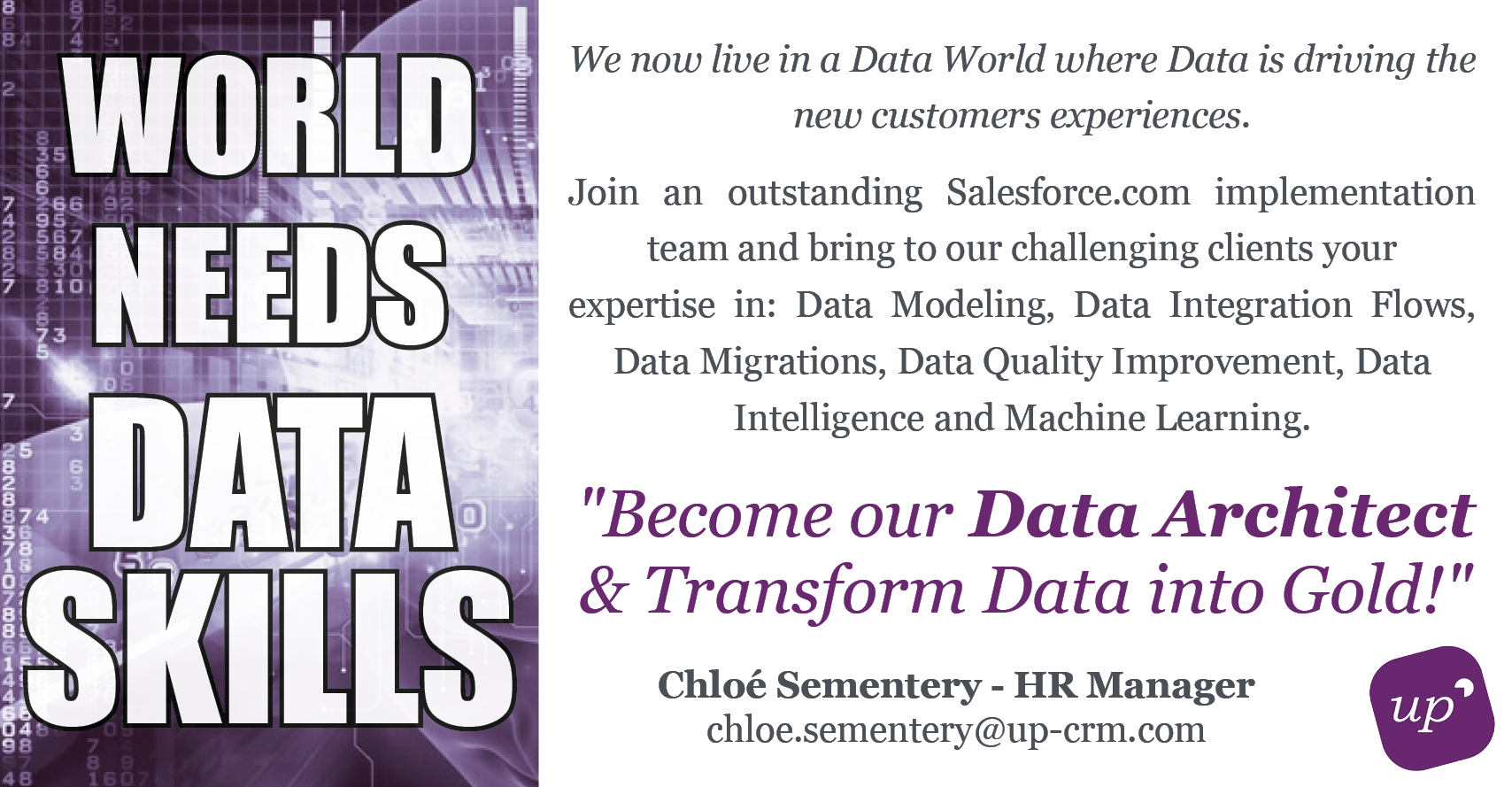 UpCRM is opening an opportunity for a Data Architect based in Luxembourg City.
Job Details:
The Data Architect is responsible for designing and documenting all the data-related aspects of our Salesforce projects:
Data Strategy

Development of data strategies and customer data programs

Data Modeling

Definition and validation of CRM Data Model in collaboration with the CRM Architects
Contribution to other systems Data Models definition
Definition of unique Data Dictionary across different systems and applications

Data & System Integration

Definition of Data Flows between CRM, Integration Platform and other Applications
Validation of Data Flow Implementations

Data Intelligence & Insights

Collaboration with BI team of our client to define the BI model and integration between CRM and BI
Modelisation of Analytics Reporting Models (Analytic Loud)
CRM Machine Learning Strategy (Analytic Cloud Einstein)

Data Quality

Data Quality Strategy Elaboration
Data Quality KPI Definition
Data Stewardship Process Design

Data Migration

Planning, including data mapping from legacy to SFDC systems
Providing assistance to Client's IT team with legacy data extraction, cleaning, and scrubbing
Validation of Data Migrations
Additionally, the Data Architect is working closely with his peers to contribute to the Salesforce based Business development and integration. Also responsible to deliver engagements in respect of client deadlines or alignments taken with peers, Data Architect is in charge of defining and implementing the right tools to design, structure and to present deliverables.
Directly in contact with customers having different technical backgrounds: applications, IT Infrastructure and Business domains.
Skills:
(required knowledge, skills and experiences to perform in the job)
Significant background and a minimum of 5+ years of experience in the DATA domain,
Knowledge and understanding of CRM solutions,
Strong knowledge of technical solutions involved in topics mentioned above : Data Modelisation, Data Flow Management (ETL/ESB), Data Transformation, Data Quality Monitoring and Improvement
Be able to fully understand each client's environment and related business needs, through clients interviews and workshops,
Lead focused discovery sessions of clients' actual business and application environment to complete understanding,
Ability to determine and execute the client's Scope of Work through discovery workshops, evaluation and reporting,
Able to manage his own agenda in a project, including the required client's meeting schedules (client Data experts). Plus, alignment & collaboration meetings with Up Consultants and Coordination functions,
Strong communication skills (both written and oral) in both French and English (mandatory).
« Bonuses »:
Consultant experience and attitude, ability to think ahead with clients
Be a team-player and a performance driven individual,
Used to work under tight delays, great sense of priority management,
German and/or Luxemburgish being a strong asset.
Title: DATA Architect
Reporting to: Services Director
Location: Luxembourg