Events & Trainings
Trainings
Register
|
Transition vers Lightning : Stratégies pour Réussir
Salesforce - 3 avenue Octave Gréard 75007 Paris
Cercle de Succès - 11h - 12h30
Un cercle de succès est une clinique en petit comité avec d'autres clients de Salesforce, focalisée sur un thème précis lié à l'adoption.
Ces séances dynamiques sont encadrées par des experts de Salesforce. Elles ont pour but de donner à nos clients l'occasion d'échanger sur leurs défis et leurs expériences.

Objectifs du Cercle :
- Acquérir en groupe des connaissances sur Lightning Experience
- Discuter de stratégies clés pour bien démarrer avec notre parcours d'adoption Lightning
- Bonnes pratiques Lightning
Pour participer, cliquez ici
+
Register
|
Wake up your Sleepy Subscribers, create an impactful re-engagement campaign
Salesforce Tower London - 110 Bishopsgate London, EC2N 4AY
Circles of Success
Come join this discussion around subscriber engagement and learn clever ways to re- engage subscribers that have not been active in a while.
We will focus on best practices around when to send re-engagement messages, how to optimise the message, and what to do with subscribers that do not re- engage.
From 09:30am to 10.30 am
Register here
+
Register
|
Bien démarrer avec Marketing Cloud
Salesforce - 3 avenue Octave Gréard 75007 Paris
Programme d'onboarding : tout ce dont vous avez besoin pour faciliter la prise en main de Salesforce Marketing Cloud
Présentation des fonctionnalités de la solution, ateliers thématiques autour de sujets clés (délivrabilité, segmentation et gouvernance) . Vous y apprendrez les fondamentaux & bonnes pratiques pour optimiser votre implémentation et favoriser votre adoption.
Pour les clients MC Premier, vous pourrez, à l'issue de cet évènement demander une consultation personnalisée d'une heure avec un spécialiste Marketing Cloud pour approfondir certaines fonctionnalités.
Profil : les chefs d'entreprise, les responsables Marketing & Communication, les chefs de projet et les responsables en charge d'implémenter Marketing Cloud au sein de votre entreprise.
Agenda : Jeudi 30 Août 9h - 12h
9h-9h30 : Accueil dans les bureaux parisiens de Salesforce & Petit-Déjeuner
9h30-10h30: Découverte de la plateforme Marketing Cloud & de ses fonctionnalités majeures
10h30-10h45 : Pause
10h45 - 11h45 : Ateliers thématiques sur les principaux enjeux d'adoption de l'outil : (2 sessions au choix)
- "Bien démarrer sur la délivrabilité": cette session présentera les bonnes pratiques & outils à votre disposition pour vous permettre d'optimiser et de maximiser votre délivrabilité email (durée 30min)
- "Bien démarrer votre segmentation": idéal pour les spécialistes marketing, cette séance vous permettra de découvrir les bases de la modélisation des données et de la segmentation dans Marketing Cloud & vous offrira une vue d'ensemble des bonnes pratiques en matière de données (durée 30min)
- "Bien démarrer votre gouvernance": cette session portera sur les sujets d'adoption autour de l'outil : Qui sont les acteurs clés ? Comment définir un plan de formation adapté à mon organisation ? Comment embarquer l'ensemble des parties prenantes ? (durée 30min)
Pour participer, cliquez ici
+
Events
Save the date
|
3 steps to give a boost to your nonprofit organization using the best CRM approach!
UpCRMImpactHub, Munich

Share with the Nonprofit Community its way to success,
while deploying best practices in interacting with their stakeholders:
Donors, Members, Sponsors, Funders, Employees.
Program

3 steps to give a boost to your nonprofit organization, using the best CRM approach!


Focus on your mission:

« Flechtwerk 2+1 GmbH For children with two homes »

Jobst Munderlein, CEO and Founder of Mein Papa kommt! will explain how Flechtwerk leverages the Salesforce CRM solution to support its activities, based on their strong expertise in the field of multlilocal family life, connecting children with their parents after separation when far distances complicate life.
Flechtwerk visiting program "Mein Papa Kommt" ("Daddy is Coming") for non-resident fathers and mothers was awarded as "startsocial" winner by chancellor Angela Merkel in 2012.

Choose the right solution:

Technology can change the world when used for good!

Salesforce.org puts the world's best technology in the hands of nonprofits and educational institutions, so that they connect their nonprofit organizations and accelerate their impact.
Lisa Grotenrath, Account Executive at Salesforce.org, will present the Salesforce.org program in charge of nonprofit organizations, and how your organisation can take benefit from it.

Set the path to success:

Key success factors for CRM Implementation to support the development of Nonprofit Organizations

Yves Leblond, Director of Consulting and Innovation at UpCRM, a Salesforce.org partner will present a structured approach to set up a CRM environment that supports a better engagement of the different stakeholders of a Nonprofit Organization. A structured project approach to help non-profit organisation to provide the best Customer Experience for Donors, Sponsors, Volunteers, Employees and Funders.

Round table

Sessions will be followed by a networking drink to allow everyone to pursue discussions.

 

Register here!




Location: Gotzinger Str. 8, 81371 München

Date: Thursday, May 23rd

Time: starts at 3.00pm

Followed by a networking drink
+
Save the date
|
Session d'échanges Talend & Petit déjeuner à Luxembourg
UpCRM & TalendUpCRM - 4 rue des joncs L-1818 HOWALD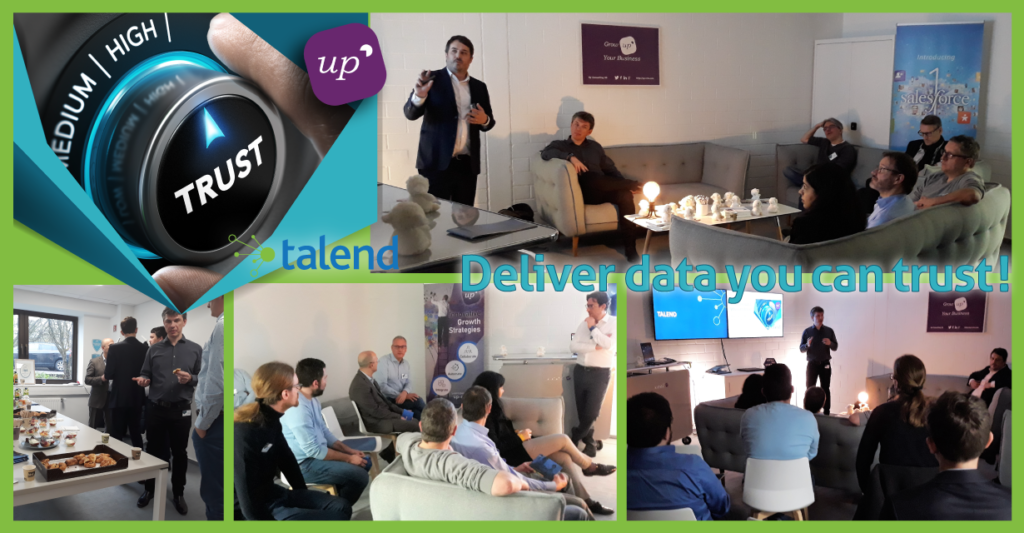 Participez à la session d'échanges et petit-déjeuner
Talend à Luxembourg
Programme

Découvrez comment la plateforme Talend aide LuxAviation à consolider ses données et à en améliorer la qualité

Avec François Rogler - Solution Architect, LuxAviation

Intégration de données avec le CRM
Avec David Talaga - Senior Product Marketing Manager, Talend


 
 
 

Date: 4 Avril 2019


Addresse: UpCRM Luxembourg

4 rue des Joncs HOWALD

Agenda:

8h30 - 9h : petit déjeuner,

9h - 10h : sessions,

10h - 10h30 : networking

Les sessions seront suivies d'un moment de networking permettant de poursuivre les échanges.
+
Save the date
|
Salesforce Luxembourg User Group – Feb. 1st 2019
Excellium Services5 Rue Goell, L-5326 Contern - Luxembourg
Friday,
February 1st
Join our User Group and meet Salesforce users sharing their journey with Salesforce,
discover features and get inspired!
There's always something new to get interested in with Salesforce!
Program:
Let's start your day off on the right foot with a breakfast!
How a Salesforce Partner like UpCRM leverages the power of Salesforce Platform
by Yves Leblond, Consulting & Innovation Director
Ever heard about data governance & data quality? Discover their best practices!
by Stéphane Baudouin, Lead Data Architect
Put the Wow! into your Flow with Lightning Experience
By a Salesforce Special Guest:
Christian Szandor Knapp, Lead Salesforce Developer, Salesforce MVP & quadruple ranger on Trailhead
+