Events & Trainings
Trainings
Register
|
Salesforce Basecamp Hamburg
Salesforce DESchuppen 52 Australiastr. 52 20457 Hamburg
Wir befinden uns bereits mitten in der vierten industriellen Revolution – im Alltag sind wir ständig online und nutzen laufend smarte Dinge, beispielsweise im Auto oder beim Online-Shopping. Damit ändert sich aber auch die Erwartungshaltung der Kunden an Unternehmen.

In mehr als 35 Sessions, Live-Demos und in der Customer Success Expo erleben Sie, wie Sie die Chancen der vierten industriellen Revolution im Vertrieb, Kundenservice, Marketing und Commerce nutzen, um die Erwartungen Ihrer Kunden sogar noch zu übertreffen.

Lassen Sie sich von echten Trailblazern inspirieren – innovativen Unternehmen, die ihre Kunden immer wieder begeistern. Lernen Sie neue Wege kennen, wie Sie die Customer Experience für Ihre Kunden neu definieren können.
+
Register
|
On Demand Webinar – Empower Customers With a Modern Self-Service Experience
SalesforceOn demand - Live Webinar
Delivering a first-rate customer experience requires creating an online experience that seamlessly connects customers to the information and business process they need most to be successful. Whether customers want to find a quick answer or get anytime access to manage their account, they expect an experience that is always on, personalised and easy to use.

Tune in to our on-demand webinar and learn how Community Cloud:
Easily extends business data and process from Salesforce and third-party systems in an engaging customer portal for any use case
Enables companies to create beautifully branded, mobile portals that effortlessly connect customers with the information and tools they need most
Our expert speakers:
Edward-Millington Jones, Sales Enablement Manager, British Airways
Rebecca Mackenzie, Product Marketing Manager, Service Cloud & Community Cloud, Salesforce
Joel Bynes, Principle Solution Engineer, Service Cloud, Salesforce
+
Register
|
Munich Service Cloud Community – Isar Floßfahrt
Salesforce DESalesforce Erika-Mann-Straße 31 80636 München
Endlich ist es soweit - die Munich Service Cloud Community feiert Geburtstag!
Mit einer ISAR FLOSSFAHRT möchten wir den ersten Geburtstag der Munich Service Cloud Community feiern. 

Wir laden Sie ganz herzlich ein einen Tag auf der Isar zusammen mit anderen Servicleitern/- Verantwortlichen, Vordenkern, Meinungsmachern zu verbringen. Seien auch Sie ein Trailblazer und tauchen Sie ein in den regelmäßigen Austausch mit Gleichgesinnten. 
Ziel von Salesforce ist der Aufbau einer lokalen Service Community, damit SIE als unser Kunde eine Plattform zur offenen Diskussion haben.

+
Events
Save the date
|
3 steps to give a boost to your nonprofit organization using the best CRM approach!
UpCRMImpactHub, Munich

Share with the Nonprofit Community its way to success,
while deploying best practices in interacting with their stakeholders:
Donors, Members, Sponsors, Funders, Employees.
Program

3 steps to give a boost to your nonprofit organization, using the best CRM approach!


Focus on your mission:

« Flechtwerk 2+1 GmbH For children with two homes »

Jobst Munderlein, CEO and Founder of Mein Papa kommt! will explain how Flechtwerk leverages the Salesforce CRM solution to support its activities, based on their strong expertise in the field of multlilocal family life, connecting children with their parents after separation when far distances complicate life.
Flechtwerk visiting program "Mein Papa Kommt" ("Daddy is Coming") for non-resident fathers and mothers was awarded as "startsocial" winner by chancellor Angela Merkel in 2012.

Choose the right solution:

Technology can change the world when used for good!

Salesforce.org puts the world's best technology in the hands of nonprofits and educational institutions, so that they connect their nonprofit organizations and accelerate their impact.
Lisa Grotenrath, Account Executive at Salesforce.org, will present the Salesforce.org program in charge of nonprofit organizations, and how your organisation can take benefit from it.

Set the path to success:

Key success factors for CRM Implementation to support the development of Nonprofit Organizations

Yves Leblond, Director of Consulting and Innovation at UpCRM, a Salesforce.org partner will present a structured approach to set up a CRM environment that supports a better engagement of the different stakeholders of a Nonprofit Organization. A structured project approach to help non-profit organisation to provide the best Customer Experience for Donors, Sponsors, Volunteers, Employees and Funders.

Round table

Sessions will be followed by a networking drink to allow everyone to pursue discussions.

 

Register here!




Location: Gotzinger Str. 8, 81371 München

Date: Thursday, May 23rd

Time: starts at 3.00pm

Followed by a networking drink
+
Save the date
|
UpCRM & Salesforce @ICT Spring 19′
UpCRM & SalesforceKirchberg - Luxembourg
Salesforce is attending ICT Springs 19' !
Salesforce Keynote ICT Springs:
When we look at the 4th industrial revolution, it's all about being connected to your customer and the challenges that the financial services industry faces. Open Banking and customer expectations have forced financial institutions to collaborate with FinTechs, but how does this work with many different partners?
Join Sander Daniels, Regional VP for Financial Services at Salesforce to look at the benefits of an Open, Cloud-based ecosystem.
Salesforce Keynote ICT Springs by Sander Daniels
FinTech Summit - Tuesday, May 21st
+
Save the date
|
Session d'échanges Talend & Petit déjeuner à Luxembourg
UpCRM & TalendUpCRM - 4 rue des joncs L-1818 HOWALD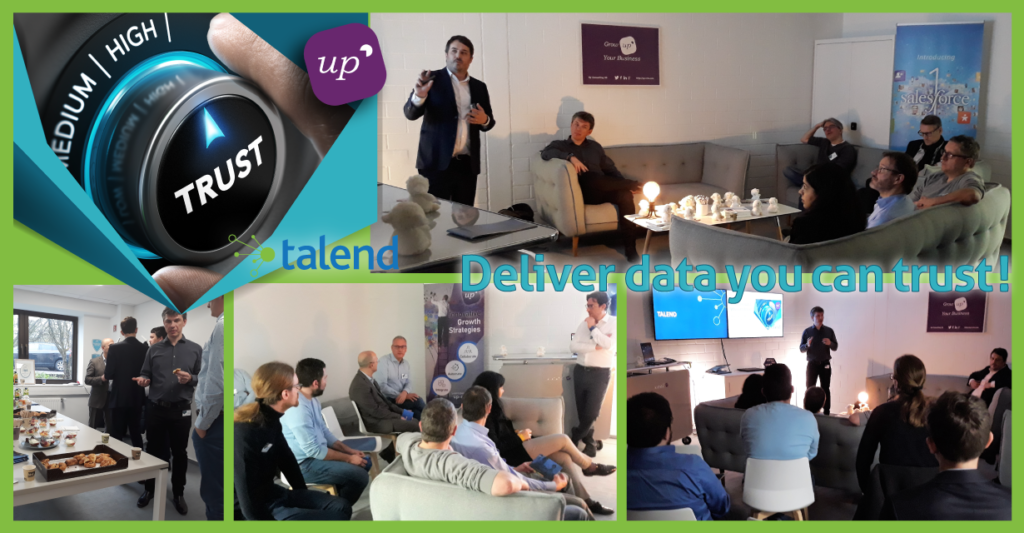 Participez à la session d'échanges et petit-déjeuner
Talend à Luxembourg
Programme

Découvrez comment la plateforme Talend aide LuxAviation à consolider ses données et à en améliorer la qualité

Avec François Rogler - Solution Architect, LuxAviation

Intégration de données avec le CRM
Avec David Talaga - Senior Product Marketing Manager, Talend


 
 
 

Date: 4 Avril 2019


Addresse: UpCRM Luxembourg

4 rue des Joncs HOWALD

Agenda:

8h30 - 9h : petit déjeuner,

9h - 10h : sessions,

10h - 10h30 : networking

Les sessions seront suivies d'un moment de networking permettant de poursuivre les échanges.
+