Events & Trainings
Trainings
Register
|
Webinar – How to Drive Adoption, Strengthen and Secure your Salesforce Org
SalesforceLive Webinar
An Introduction on How to Drive Adoption, Strengthen and Secure your Salesforce Org
July 19, 2019 03:00 PM CEST
Do you have sensitive information stored in Salesforce? Are you looking to get more from your Salesforce instance? As adoption of Salesforce for critical business capabilities grows, monitoring user behaviour, tracking changes to data, and preventing data loss is more important than ever.
Join this 30 minute session to learn how Salesforce's premium security product, Shield, helps you:
- Drive performance and adoption with Event Monitoring
- Monitor compliance with your security policies and prevent infractions in real-time
- Track changes to and retain data to meet compliance obligations
- Encrypt your most sensitive data at rest, while maintaining app functionality
You'll see a demo showcasing key features and you will get the chance to have all your product questions answered.
Other Shield Sessions: July 26th & August 2nd
+
Register
|
Webinar – Supercharge the Productivity of your Inside Sales Teams
SalesforceLive Webinar
Webinar
July 18, 2019 11:00 AM CEST
Salespeople today spend more time selling in front of a computer screen than in person. Research also shows that inside sales roles are growing 15 times faster than field sales roles.

That means it's more important than ever for companies to stay ahead of the curve with their teams and their technology. The most effective Inside Sales teams know how to collaborate seamlessly across teams and operationalise their step-by-step sales guides and best practices.

Join this webinar to find out how you can accelerate virtual selling by arming your Inside Sales teams with:
Insights on how to prospect smarter and faster
Integrated tools to eliminate busywork and wasteful admin time
New levels of best-practice automation for scalable & repeatable success
+
Register
|
Transition vers Lightning : Stratégies pour Réussir
Salesforce - 3 avenue Octave Gréard 75007 Paris
Cercle de Succès - 11h - 12h30
Un cercle de succès est une clinique en petit comité avec d'autres clients de Salesforce, focalisée sur un thème précis lié à l'adoption.
Ces séances dynamiques sont encadrées par des experts de Salesforce. Elles ont pour but de donner à nos clients l'occasion d'échanger sur leurs défis et leurs expériences.

Objectifs du Cercle :
- Acquérir en groupe des connaissances sur Lightning Experience
- Discuter de stratégies clés pour bien démarrer avec notre parcours d'adoption Lightning
- Bonnes pratiques Lightning
Pour participer, cliquez ici
+
Events
Save the date
|
3 steps to give a boost to your nonprofit organization using the best CRM approach!
UpCRMImpactHub, Munich

Share with the Nonprofit Community its way to success,
while deploying best practices in interacting with their stakeholders:
Donors, Members, Sponsors, Funders, Employees.
Program

3 steps to give a boost to your nonprofit organization, using the best CRM approach!


Focus on your mission:

« Flechtwerk 2+1 GmbH For children with two homes »

Jobst Munderlein, CEO and Founder of Mein Papa kommt! will explain how Flechtwerk leverages the Salesforce CRM solution to support its activities, based on their strong expertise in the field of multlilocal family life, connecting children with their parents after separation when far distances complicate life.
Flechtwerk visiting program "Mein Papa Kommt" ("Daddy is Coming") for non-resident fathers and mothers was awarded as "startsocial" winner by chancellor Angela Merkel in 2012.

Choose the right solution:

Technology can change the world when used for good!

Salesforce.org puts the world's best technology in the hands of nonprofits and educational institutions, so that they connect their nonprofit organizations and accelerate their impact.
Lisa Grotenrath, Account Executive at Salesforce.org, will present the Salesforce.org program in charge of nonprofit organizations, and how your organisation can take benefit from it.

Set the path to success:

Key success factors for CRM Implementation to support the development of Nonprofit Organizations

Yves Leblond, Director of Consulting and Innovation at UpCRM, a Salesforce.org partner will present a structured approach to set up a CRM environment that supports a better engagement of the different stakeholders of a Nonprofit Organization. A structured project approach to help non-profit organisation to provide the best Customer Experience for Donors, Sponsors, Volunteers, Employees and Funders.

Round table

Sessions will be followed by a networking drink to allow everyone to pursue discussions.

 

Register here!




Location: Gotzinger Str. 8, 81371 München

Date: Thursday, May 23rd

Time: starts at 3.00pm

Followed by a networking drink
+
Save the date
|
UpCRM & Salesforce @ICT Spring 19′
UpCRM & SalesforceKirchberg - Luxembourg
Salesforce is attending ICT Springs 19' !
Salesforce Keynote ICT Springs:
When we look at the 4th industrial revolution, it's all about being connected to your customer and the challenges that the financial services industry faces. Open Banking and customer expectations have forced financial institutions to collaborate with FinTechs, but how does this work with many different partners?
Join Sander Daniels, Regional VP for Financial Services at Salesforce to look at the benefits of an Open, Cloud-based ecosystem.
Salesforce Keynote ICT Springs by Sander Daniels
FinTech Summit - Tuesday, May 21st
+
Save the date
|
Session d'échanges Talend & Petit déjeuner à Luxembourg
UpCRM & TalendUpCRM - 4 rue des joncs L-1818 HOWALD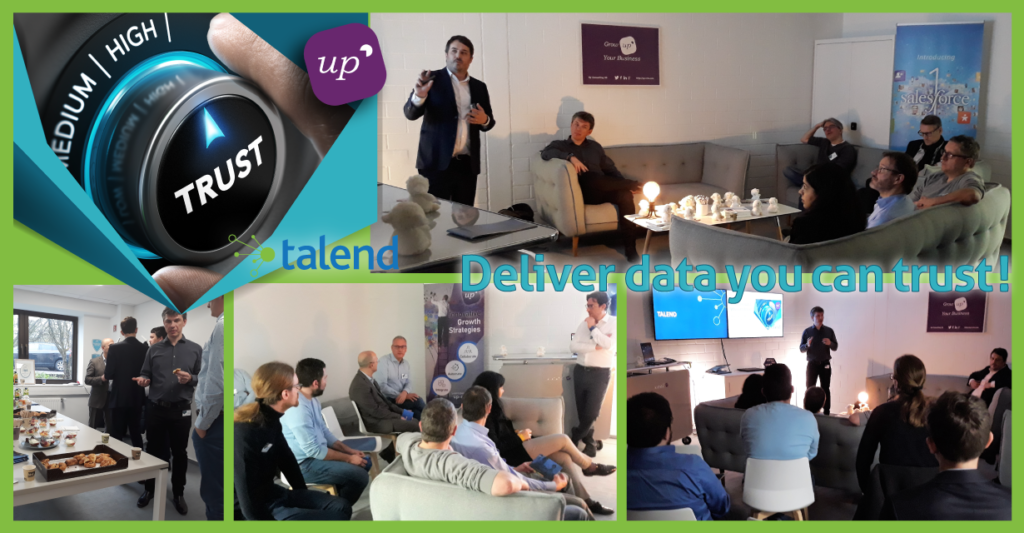 Participez à la session d'échanges et petit-déjeuner
Talend à Luxembourg
Programme

Découvrez comment la plateforme Talend aide LuxAviation à consolider ses données et à en améliorer la qualité

Avec François Rogler - Solution Architect, LuxAviation

Intégration de données avec le CRM
Avec David Talaga - Senior Product Marketing Manager, Talend


 
 
 

Date: 4 Avril 2019


Addresse: UpCRM Luxembourg

4 rue des Joncs HOWALD

Agenda:

8h30 - 9h : petit déjeuner,

9h - 10h : sessions,

10h - 10h30 : networking

Les sessions seront suivies d'un moment de networking permettant de poursuivre les échanges.
+