Events & Trainings
Trainings
Register
|
Salesforce – Administration Essentials for New Admins
SalesforceLondon
Become a Salesforce.com Certified Administrator! This comprehensive hands-on course is a must for new Salesforce administrators. New Admins is the core training that ensures your success with Salesforce. For maximum benefit, we recommend administrators take this course before starting a Salesforce deployment or when taking over an existing deployment.
Fonction
Beginning Administrator
Durée
5 jours
Register here
+
Register
|
Salesforce – Apex & Contrôleurs Visualforce (DEV-501)
SalesforceParis
Êtes-vous prêt à appliquer vos connaissances en matière de programmation sur Force.com ? Conçu pour les développeurs expérimentés, ce cours offre une immersion totale au cœur des langages de programmation Force.com et de l'environnement de développement sur Internet. Vous explorerez les méthodes de développement d'interfaces personnalisées et apprendrez à écrire la logique métier et les interactions applicatives. Vous découvrirez comment gérer vos projets sur Internet, à l'aide des meilleures pratiques de débogage et de développement en équipe. Et vous apprendrez également à utiliser les fonctionnalités de déploiement de la plate-forme. Les participants au cours ont également accès aux cours en ligne Visualforce Pages et Managing Development with Force.com qu'il leur faudra suivre avant de participer au cours Apex and Visualforce Controllers. Ensemble, ces cours vous préparent à l'examen Certified Force.com Advanced Developer de salesforce.com.
+
Register
|
Salesforce – Building Applications with Force.com (DEV-401)
SalesforceLondon
This hands-on course covers the object model and how to configure applications with metadata—the fundamentals of creating Force.com applications. You'll learn how to build a sophisticated application from start to finish, including how to design applications for the cloud, create custom objects, use workflow and rules to automate processes, and build the user interface.
+
Events
Save the date
|
3 steps to give a boost to your nonprofit organization using the best CRM approach!
UpCRMImpactHub, Munich

Share with the Nonprofit Community its way to success,
while deploying best practices in interacting with their stakeholders:
Donors, Members, Sponsors, Funders, Employees.
Program

3 steps to give a boost to your nonprofit organization, using the best CRM approach!


Focus on your mission:

« Flechtwerk 2+1 GmbH For children with two homes »

Jobst Munderlein, CEO and Founder of Mein Papa kommt! will explain how Flechtwerk leverages the Salesforce CRM solution to support its activities, based on their strong expertise in the field of multlilocal family life, connecting children with their parents after separation when far distances complicate life.
Flechtwerk visiting program "Mein Papa Kommt" ("Daddy is Coming") for non-resident fathers and mothers was awarded as "startsocial" winner by chancellor Angela Merkel in 2012.

Choose the right solution:

Technology can change the world when used for good!

Salesforce.org puts the world's best technology in the hands of nonprofits and educational institutions, so that they connect their nonprofit organizations and accelerate their impact.
Lisa Grotenrath, Account Executive at Salesforce.org, will present the Salesforce.org program in charge of nonprofit organizations, and how your organisation can take benefit from it.

Set the path to success:

Key success factors for CRM Implementation to support the development of Nonprofit Organizations

Yves Leblond, Director of Consulting and Innovation at UpCRM, a Salesforce.org partner will present a structured approach to set up a CRM environment that supports a better engagement of the different stakeholders of a Nonprofit Organization. A structured project approach to help non-profit organisation to provide the best Customer Experience for Donors, Sponsors, Volunteers, Employees and Funders.

Round table

Sessions will be followed by a networking drink to allow everyone to pursue discussions.

 

Register here!




Location: Gotzinger Str. 8, 81371 München

Date: Thursday, May 23rd

Time: starts at 3.00pm

Followed by a networking drink
+
Save the date
|
Session d'échanges Talend & Petit déjeuner à Luxembourg
UpCRM & TalendUpCRM - 4 rue des joncs L-1818 HOWALD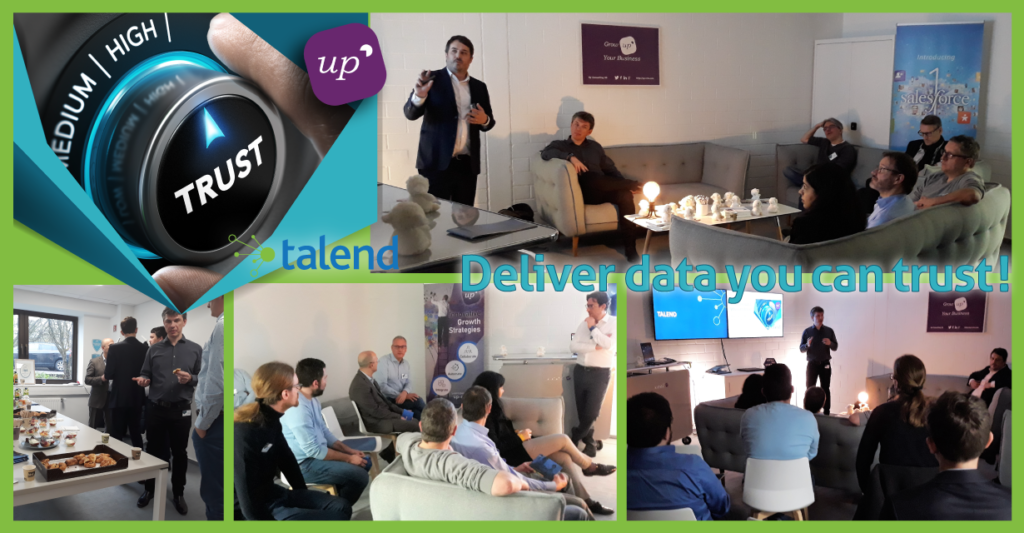 Participez à la session d'échanges et petit-déjeuner
Talend à Luxembourg
Programme

Découvrez comment la plateforme Talend aide LuxAviation à consolider ses données et à en améliorer la qualité

Avec François Rogler - Solution Architect, LuxAviation

Intégration de données avec le CRM
Avec David Talaga - Senior Product Marketing Manager, Talend


 
 
 

Date: 4 Avril 2019


Addresse: UpCRM Luxembourg

4 rue des Joncs HOWALD

Agenda:

8h30 - 9h : petit déjeuner,

9h - 10h : sessions,

10h - 10h30 : networking

Les sessions seront suivies d'un moment de networking permettant de poursuivre les échanges.
+
Save the date
|
Salesforce Luxembourg User Group – Feb. 1st 2019
Excellium Services5 Rue Goell, L-5326 Contern - Luxembourg
Friday,
February 1st
Join our User Group and meet Salesforce users sharing their journey with Salesforce,
discover features and get inspired!
There's always something new to get interested in with Salesforce!
Program:
Let's start your day off on the right foot with a breakfast!
How a Salesforce Partner like UpCRM leverages the power of Salesforce Platform
by Yves Leblond, Consulting & Innovation Director
Ever heard about data governance & data quality? Discover their best practices!
by Stéphane Baudouin, Lead Data Architect
Put the Wow! into your Flow with Lightning Experience
By a Salesforce Special Guest:
Christian Szandor Knapp, Lead Salesforce Developer, Salesforce MVP & quadruple ranger on Trailhead
+