Events & Trainings
Trainings
Register
|
Marketing Cloud: Getting Started with Content Builder
Webinar
Accelerator LIVE
In this session, a Specialist will give you a guided tour of all of the components in Content Builder.
We'll show you how to create emails and share best practices for admin setup, content management, and day-to-day use.
Agenda: Tue, Aug 14, 2018 11:00 AM - 12:30 PM CEST

We'll show you how to create content blocks, emails, and templates with live demonstrations.
We will share best practices for admin setup, content management, and day-to-day use.
We will give guidance for migrating from Classic Content to Content Builder.
Register here
If you're a Marketing Cloud Premier Customer, we'll also offer a 1:1 follow-up session to answer any outstanding questions.
+
Register
|
Lightning Configuration Fast Start
Webinar
Supercharge your Lightning setup with expert help!
In this session, a Lightning expert will walk you through the Lightning configuration and customization options available to you.
Agenda: Wednesday August, 8th 11h00 - 12h30 CEST

* Walk through how to enable Lightning Experience and optimize with features
* Understand how to use and setup tools in Lightning including the Navigation Menu, App Launcher, and Lightning Apps
* Discover Lightning-only features which can drive productivity and collaboration with your end users
* Learn how to track utilization and extend your org using the AppExchange (with clicks, not code)
* Review trends, best practices, and resources that will help drive adoption and change management in Lightning
And, if you're a Premier customer, we'll also offer a 1:1 follow-up session to answer any outstanding questions.
Register here
+
Register
|
Configuration et Personnalisation de Lightning – Démarrage Rapide
Webinar
Boostez votre configuration Lightning avec l'aide d'experts !
Dans cette session, un expert de Lightning vous guidera tout au long de la configuration et personnalisation de Lightning.
L'ordre du jour : Mercredi 8 août 2018 11h00 - 12h30

* Découvrez comment activer Lightning Experience et l'optimiser avec ses fonctionnalités
*Comprendre comment utiliser et configurer les outils dans Lightning, y compris le menu de navigation, le lanceur d'applications et les applications Lightning
* Découvrez les fonctionnalités de Lightning qui peuvent stimuler la productivité et la collaboration avec vos utilisateurs finaux
* Apprenez à tracker l'utilisation et à faire grandir votre organisation en utilisant AppExchange (avec des clics, pas de code)
* Revoir les tendances, les meilleures pratiques et les ressources qui aideront à entraîner l'adoption et la gestion du changement dans Lightning
Si vous êtes un client Premier, nous proposerons également une session de suivi 1:1 pour répondre aux questions qui restent en suspens.
Pour participer, cliquez ici
+
Events
Save the date
|
3 steps to give a boost to your nonprofit organization using the best CRM approach!
UpCRMImpactHub, Munich

Share with the Nonprofit Community its way to success,
while deploying best practices in interacting with their stakeholders:
Donors, Members, Sponsors, Funders, Employees.
Program

3 steps to give a boost to your nonprofit organization, using the best CRM approach!


Focus on your mission:

« Flechtwerk 2+1 GmbH For children with two homes »

Jobst Munderlein, CEO and Founder of Mein Papa kommt! will explain how Flechtwerk leverages the Salesforce CRM solution to support its activities, based on their strong expertise in the field of multlilocal family life, connecting children with their parents after separation when far distances complicate life.
Flechtwerk visiting program "Mein Papa Kommt" ("Daddy is Coming") for non-resident fathers and mothers was awarded as "startsocial" winner by chancellor Angela Merkel in 2012.

Choose the right solution:

Technology can change the world when used for good!

Salesforce.org puts the world's best technology in the hands of nonprofits and educational institutions, so that they connect their nonprofit organizations and accelerate their impact.
Lisa Grotenrath, Account Executive at Salesforce.org, will present the Salesforce.org program in charge of nonprofit organizations, and how your organisation can take benefit from it.

Set the path to success:

Key success factors for CRM Implementation to support the development of Nonprofit Organizations

Yves Leblond, Director of Consulting and Innovation at UpCRM, a Salesforce.org partner will present a structured approach to set up a CRM environment that supports a better engagement of the different stakeholders of a Nonprofit Organization. A structured project approach to help non-profit organisation to provide the best Customer Experience for Donors, Sponsors, Volunteers, Employees and Funders.

Round table

Sessions will be followed by a networking drink to allow everyone to pursue discussions.

 

Register here!




Location: Gotzinger Str. 8, 81371 München

Date: Thursday, May 23rd

Time: starts at 3.00pm

Followed by a networking drink
+
Save the date
|
UpCRM & Salesforce @ICT Spring 19′
UpCRM & SalesforceKirchberg - Luxembourg
Salesforce is attending ICT Springs 19' !
Salesforce Keynote ICT Springs:
When we look at the 4th industrial revolution, it's all about being connected to your customer and the challenges that the financial services industry faces. Open Banking and customer expectations have forced financial institutions to collaborate with FinTechs, but how does this work with many different partners?
Join Sander Daniels, Regional VP for Financial Services at Salesforce to look at the benefits of an Open, Cloud-based ecosystem.
Salesforce Keynote ICT Springs by Sander Daniels
FinTech Summit - Tuesday, May 21st
+
Save the date
|
Session d'échanges Talend & Petit déjeuner à Luxembourg
UpCRM & TalendUpCRM - 4 rue des joncs L-1818 HOWALD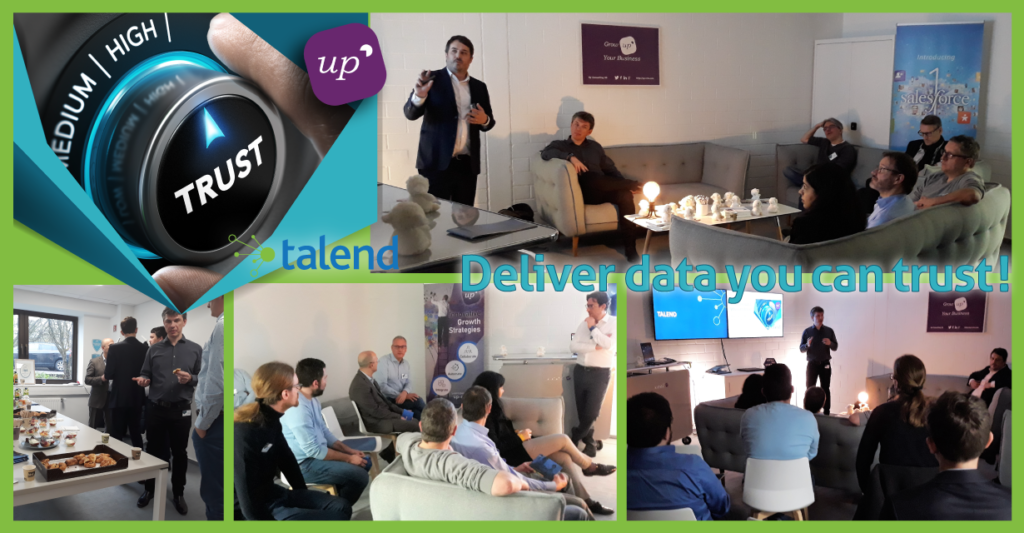 Participez à la session d'échanges et petit-déjeuner
Talend à Luxembourg
Programme

Découvrez comment la plateforme Talend aide LuxAviation à consolider ses données et à en améliorer la qualité

Avec François Rogler - Solution Architect, LuxAviation

Intégration de données avec le CRM
Avec David Talaga - Senior Product Marketing Manager, Talend


 
 
 

Date: 4 Avril 2019


Addresse: UpCRM Luxembourg

4 rue des Joncs HOWALD

Agenda:

8h30 - 9h : petit déjeuner,

9h - 10h : sessions,

10h - 10h30 : networking

Les sessions seront suivies d'un moment de networking permettant de poursuivre les échanges.
+