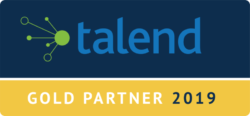 Data Integration is a key success factor in CRM projects. Talend is a modern solution with native support for Data Management, which takes the complexity out of integration and equips IT to be more responsive to the demands of the business. Up Consulting is a Luxembourg Talend partner!
As a leader in cloud and big data integration software Talend is helping organizations become data driven by collecting, cleaning, and quickly moving data to where it's needed to inform business decisions. Recently listed on NASDAQ, Talend is gaining industry recognition for its rapid growth and open-source-based solutions that are faster than legacy products and quicker to respond to market innovations.
Talend is recognised by Gartner as a "Visionary" in the 2013 Magic Quadrant for data integration tools.
Products & Services
Talend Solutions enable migration and integration of historical, live, and emerging data from your existing systems to your CRM environment, based on a batch (ETL) or real-time (ESB) process.
Talend Open Studio features a single Eclipse-based tooling environment empowering analysts and users to model, configure, test and deploy solutions that combine 
Big Data Integration: Realize the speed and scale of Big Data without coding
Data Integration: Respond to business needs for integrated data
Cloud Integration: Connect all your data in the cloud and on premises
Data Preparation: Fast and easy self-service data prep for everyone
Application Integration: Deliver agile real-time integration of applications
Master Data Management: Empower business with a single view of the truth
Talend Solutions speed up development in the midst of complexity and heterogeneous environments through support for over 800 connectors to all types of sources including big data, databases, packaged applications (ERP, CRM, etc.), SaaS and Cloud applications, mainframes, files, web services, data warehouses, data marts, and Online Analytical Processing (OLAP) applications.
Developers can quickly build integration jobs, data profiles, a master data hub, and implement web services, data services, REST applications and messaging routes.